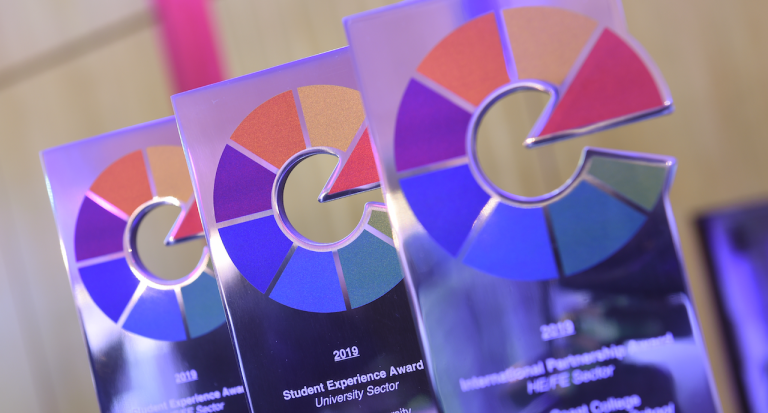 The prestigious Educate North Awards are now open for entries and will be held for the sixth successive year at Manchester's Hilton Hotel on Deansgate.
St George's Day, 23rd April 2020, will see the North's top flight University, Higher Education, FE and Sixth Form sectors compete for these sought-after trophies chosen by a special panel of academics, business people and experts from across the UK.
The awards celebrate excellence, improvement and outstanding achievement as well as searching for the latest and best new business ideas across the North.
You can enter now here.
'2019 was a standing room only event with record attendance, record entries and according to the judges, a superbly high standard of competitiveness' said awards founder the Broadcaster Rob McLoughlin OBE.
'We saw victories for Newcastle University in highly competitive categories, judges split and forced to award highly commended certificates to University of York, wins for UCLAN, Tyne Coast College, the fabulous Juice Academy and Backstage Academy as well Newcastle College and Grimsby Institute and Nelson and Colne in Lancashire.'
'Liverpool John Moores University and Teesside University competed in categories with eye catching entries' he continued.
'It was wonderful to see Professor Tim Wheeler receive a lifetime achievement award as he retires from an amazing transformation of The University of Chester and great to see Dave Clayton, a student in Lancashire, pick up £1000 and a trophy to write a business plan as the audience voted for his 'bright' idea Wot Wud U Do, a behavioural app. He pitched live in front of the audience with 2 other good ideas and walked with the cash and hopefully a flying start.'
The event, supported by Prolific North and produced with Don't Panic Events, opened with an inspirational keynote speech from Professor Tony Young, Head of Clinical Innovation for NHS England who revealed his journey from a low income family in Essex to become a leading surgeon and creator of The NHS Clinical Entrepreneurs Programme which has attracted more than £120m for smart new ideas from medics  within the health service.
'2020 will see new categories, new innovations but the same rigour as we celebrate world class success in a sector which is undergoing major change and unique challenges but which is vital for the economic and intellectual growth of the North' concludes Professor Phil Harris, Chairman of the judges.
Entries will close in February 2020 and a shortlist announced later.